Have you ever wanted to ride your bike somewhere with your young children and then walk around with them in a stroller once you get there?  Perhaps a local farmers market or craft fair?  Of course you have!  That sounds amazing!!!  This, however, can be an extremely cumbersome process though.  You have to figure out a way to get the stroller there and so more than likely one parent is having fun biking with the kids while the other is driving the stroller there.   And if you are a single parent, I have no idea how you get a bike, a kid, and a stroller there.
The good news is that there appears to be a wave of products coming onto the market that would allow your bike to transition into a stroller and then back again.  These companies have found an ingenious way to combine two, large, space gobbling necessities of life and combine them into one product.
One of the largest companies we have found is Taga Bike.  This product has been in Europe for over six years and has finally made its way to the United States.  We haven't had an opportunity to try one of these yet but the reviews so far are fantastic.  They come in a wide variety of designs and even include one that features two seats.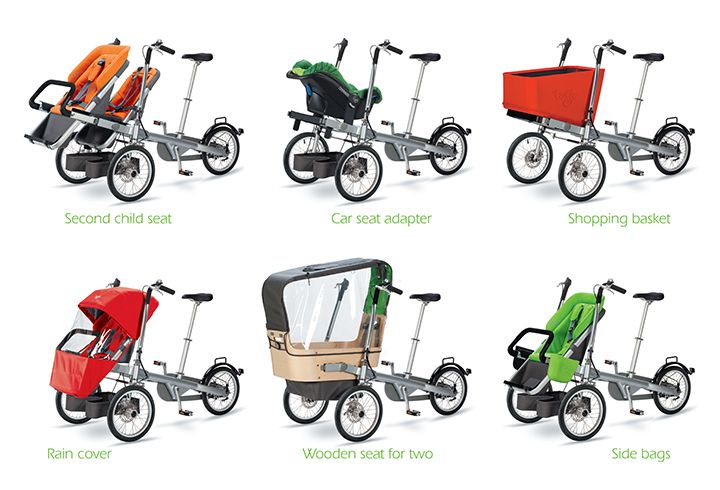 The major downside to the bikes at this point is the price.  The base model of the Taga bike is roughly $1500.  That is a huge price point and greatly limits the number of parents that could afford it.  But the good news is that there are more and more of these products coming onto the market all the time and whenever that happens the price usually drops (just ask the retailers that were able to sell portable CD players for over $400 a piece.)
Overall, this is an innovative and space-saving design that will allow for parents to be more active with their kids and explore the world.  This checks all the boxes of what we are looking for out of our products so we will closely be following their development and growth.
UPDATE!!!
Taga just released their new and improved Taga 2.0!  It's pretty amazing.